For Pricing on our Secure Document Shredding Services in Malvern PA
Please Call: 610.674.6373
Secure Document Shredding in Malvern PA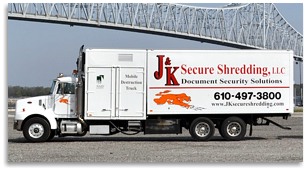 J&K Secure Shredding is among the top document shredding services in Malvern PA. We have an unwavering commitment to providing the best shredding services by using leading edge equipment and vehicles to dispose of your sensitive data is the safest, most secure and hassle-free manner. We guarantee the safe destruction of your confidential data by utilizing industry best practices.
J&K does more than just secure document shredding. Our friendly professionals also do Malvern PA hard drive disposal, as well as hassle-free recycling of computer and peripheral equipment.
With J&K Shredding Services, you receive the peace of mind knowing that, as a business or resident of Malvern PA, your most sensitive information is destroyed in the safest and most secure manner.
When it Comes to Document Shredding, Malvern PA Businesses Trust J & K
With our secure shredding services, you can rest-assured they are reliable based on our AAA certification from the National Association for Information Destruction (NAID). NAID certification is given to companies that maintain ongoing compliance with the organization's stringent standards of quality and excellence.
Triple-A NAID certified companies are also required to fulfill essential regulatory requirements and provide validation that their policies and procedures contain certain provisions and other specific language. Meeting these standards gives our customers additional quality assurance of secured shredding when working with J&K.
The Most Secure Malvern PA 19355 Shredding Services
Residential Shredding
With our secure and high-quality Malvern PA residential shredding services, we make it convenient and super-easy for our customers to get their documents shredded. We have drop-off points in our facility that are easy for our customers to access (any time day or night). You may also take advantage of community day/shredding events we hold from time to time in your area.
On-Site Commercial Shredding
We send our experienced professionals to your business location to safely, securely and efficiently destroy any sensitive data you no longer want to have around.
Hard drive Destruction Services
Many companies are moving away from paper data and storing more confidential information electronically. If you have sensitive data you need destroyed that is kept on a computer hard drive (or similar data system), J&K can come to your site and take care of this for you. We also offer pick-up and drop-off options when you choose this service.
Media Destruction
Are you backing up any of your confidential data on mobile digital devices other than computers? At J&K, we safely destroy X-Rays, microfiche, tapes, CDs, DVDs, USB/Flash drives, mobile phones, and any other portable device you may be using.
Product Reduction
If your company is storing old and unwanted items that you think might be damaging to your brand, we can take care of this for you as well. For example, if you have products or memorabilia with an outdated logo, we can dispose of them in a convenient and hassle-free manner.
Flexible and Cost Effective Paper Shredding Services in Malvern PA
Are you seeking the highest quality document shredding service in Malvern PA? J&K secure shredding is a reliable, affordable company that takes pride in being the best shredding service in Malvern PA. We are NAID-certified and uphold all standards of being the top provider of paper shredding services in Malvern PA.
With low rates and the highest quality equipment and personnel in the industry, why wouldn't you choose us? We treat each of our customers like family, providing residential and commercial shredding services for all who reside in Malvern PA.
J & K Shredding: Offering a Full Range of Data Destruction Services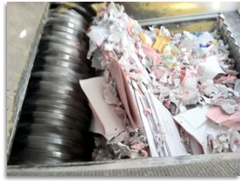 At J&K, we are far more than just a document shredding service. Malvern PA businesses can have all their sensitive data disposed of with us - from a wide variety of media, including:
CDs
DVDs
Audio/Video Tapes
Computer Tape
Desktop/Laptop Computers
Hard Drives
Much more ...
Whatever kind of sensitive data you need disposed of, we can take care of it for you in the most secure and environmentally sound way possible. Whenever possible, we recycle the material. But our top concern is always to ensure your privacy and confidentiality.
If you need medical, legal or business document shredding services in Malvern PA or any other kind of data destruction, call J & K today at 610.674.6373 to request more information on pricing or to begin service. We thank you for your business and cannot wait to serve you!
Getting to Know Shredders and Shredding Services
For paper shredding in Malvern PA, there are a lot of shredders that are available on the market nowadays. These shredders are classified into the way they do the shredding of documents and the pattern of the paper strips produced. The types of shredders are enumerated below:
Particle-cut shredder - This creates either tiny circular or square shreds.
Confetti-cut or cross-cut shredder - This produces either diamond-shaped or rectangular pieces using a couple of contrasting, rotating drums.
Strip-cut shredder - This produces thin strips. This shredder is the least reliable because the thin strips they produced can be reconstructed. The reconstructed confidential documents may be used by criminals or rival companies against you and your company. Aside from its reliability issues, this shredder also produces the largest waste because the chads (the produced shreds from document shredding) are not compressed.
Granulator or disintegrator - This creates considerably tiny pieces by cutting randomly the papers over and over again.
Cardboard shredder - As the name suggests, this type of shredder is specifically designed for cardboards as well as other hard and uneven materials. This produces random strips.
Pierce and Tear Rotating Blade - This produces random strips by piercing and ripping the documents.
Hammermill - This also produces random shreds but unlike the pierce and tear rotating blade, it batters the documents through a screen.
Grinder -This shredder produces small, randomly-shaped shreds by grinding the paper with the cutting blades of a rotating shaft.
The consumption of any of these shredders entails hassles. As a solution, there are paper shredding services you can hire for your office or home needs. You can select between a couple of shredding plan choices namely off-site and on-site shredding of documents.
In off-site shredding services, the service company provides a container that has locks to its clients. The confidential and unnecessary documents that the client wishes to dispose have to be kept in the provided container. The locks of the container are assurance of safekeeping of the confidential documents. The service provider would then go to the location of their client and pick up the locked container.
They would transport the locked container into their shredding facility which is far bigger than either office or home shredders. The destruction of the documents would happen there. As a client, you have the option to watch the entire process of document destruction. Security cameras help this to happen.
Aside from enabling you to witness the shredding process, the security cameras are there to protect the shredding premises as well as your documents against criminals. After the completion of the process, the service provider will give you a Certificate of Destruction, which states the time and date of the shredding of documents.
On-site paper redding services, on the other hand, involve the process of shredding your unneeded and confidential documents in your location. This was made possible by the mobile shredding trucks that service providers drive upon your agreed schedule. Just like off-site shredding, there are security cameras installed in the trucks that enable you to witness the process. You will also receive a Certificate of Destruction.
Shredding services in Malvern PA, be it off-site or on-site, are the best options for your document disposal needs. The peace of mind you can receive from office or home shredders, you can also receive from service providers.