For Pricing on our Secure Document Shredding Services in Montgomeryville PA
Please Call: 610.674.6373
Secure Document Shredding in Montgomeryville PA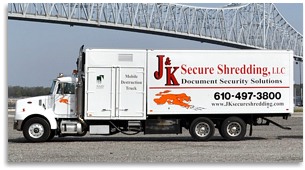 J&K Secure Shredding provides high-quality document shredding for businesses and residents in Montgomeryville PA. We guarantee safe and secure data disposal by using state-of-the-art equipment and cutting-edge techniques performed by experienced professionals. The end result is a time-tested process that destroys your confidential data in the safest, most secure and efficient manner possible.
At J&K, we do more than just secure document shredding. You can also count on us for Montgomeryville PA hard drive disposal and easy and convenient computer and peripheral equipment recycling.
You can do business with J&K Shredding with confidence knowing that our Montgomeryville PA secure shredding service will employ industry best practices to safely and securely destroy your sensitive data.
For the Best in Secure Document Shredding, Montgomeryville PA Businesses Turn to J & K
At J&K, we have been certified and earned a AAA rating from the National Association for Information Destruction (NAID). NAID only certifies companies that stay in compliance on an ongoing basis with their very stringent standards of quality and excellence.
In addition, to become NAID-certified, you must include certain language and other important provisions in your policies and procedures. Being NAID-certified, Montgomeryville PA residents and business owners receive additional assurance that we will handle their highly sensitive data with the utmost care and by utilizing industry best practices.
Safe Document Shredding for Montgomeryville PA 19454 Businesses
Residential Shredding
With our secure and high-quality Montgomeryville PA residential shredding services, we make it convenient and super-easy for our customers to get their documents shredded. We have drop-off points in our facility that are easy for our customers to access (any time day or night). You may also take advantage of community day/shredding events we hold from time to time in your area.
On-Site Commercial Shredding
We send our experienced professionals to your business location to safely, securely and efficiently destroy any sensitive data you no longer want to have around.
Hard drive Destruction Services
Many companies are moving away from paper data and storing more confidential information electronically. If you have sensitive data you need destroyed that is kept on a computer hard drive (or similar data system), J&K can come to your site and take care of this for you. We also offer pick-up and drop-off options when you choose this service.
Media Destruction
Are you backing up any of your confidential data on mobile digital devices other than computers? At J&K, we safely destroy X-Rays, microfiche, tapes, CDs, DVDs, USB/Flash drives, mobile phones, and any other portable device you may be using.
Product Reduction
If your company is storing old and unwanted items that you think might be damaging to your brand, we can take care of this for you as well. For example, if you have products or memorabilia with an outdated logo, we can dispose of them in a convenient and hassle-free manner.
Flexible and Easy Paper Shredding Services For Montgomeryville PA Businesses
For affordable high-quality Montgomeryville PA document shredding services, you can count on J&K Secure Shredding. We have been serving your community for years, providing safe, secure, reliable, and affordable document shredding for Montgomeryville PA residents and businesses.
We are NAID-certified, which means we follow the strictest guidelines in the industry and remain continually in compliance with all industry best practices. With low rates and high quality service delivered by experienced professionals, you cannot go wrong with J&K. Our customers/clients are family to us, and we go to great lengths to ensure that every job meets our high standards for quality and excellence.
J & K Shredding: Offering a Full Range of Data Destruction Options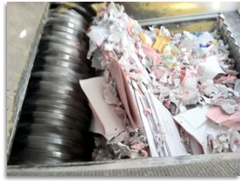 We at J&K have a wide range of data destruction services that are relevant to whatever you might require. We have services that facilitate the destruction of all forms of electronic media. These include:
CDs
DVDs
Audio/Video Tapes
Computer Tape
Desktop/Laptop Computers
Hard Drives
Much more ...
We also work with the environment in mind. We recycle when we can, but our key focus is always to make sure that the important data you have is fully protected at all times.
If you need medical, legal or business document shredding services in Montgomeryville PA or any other kind of data destruction, call J & K today at 610.674.6373 to request more information on pricing or to begin service. We thank you for your business and cannot wait to serve you!
Who Benefits from Shredding Services Montgomeryville PA
The person, date and place of the first act of paper shredding may be unknown but the original purpose of this act was clear; it was meant to destroy confidential documents. As time progresses, the process and purpose of shredding documents evolve as well. Before, the process involved in shredding documents was greatly hand-operated. Nowadays, electricity-run shredders are available.
There are also companies that offer shredding services. These services are beneficial to different persons and organizations such as: the government, nongovernmental organizations (NGOs), business owners, employees, civilians/clients/customers, homeowners, and pet and cattle owners.
Government
It is no secret that the government keeps a lot of confidential information. The possible leakage of information from the government may affect civilians, corporations and even the state itself. Owing to the use of computers for document management, there are huge stacks of paper about civilians, corporations and state secrets that must be disposed. Unsurprisingly, the government is the one who benefit from these services a lot.
NGOs
Aside from the government, NGOs, most especially the political and social advocates, benefit from shredding of documents. As a matter of fact, NGOs that campaign for environmental protection encourages shredding of documents to recycle paper instead of burning them. Like the government, NGOs that advocate political and social reforms keep confidential information. They use this information in their lobbying strategies. Just like the government, they now employ computer-aided document management; hence, they have to dispose chunks of their documents. Services for document shredding would then come in.
Business Owners
The corporate sector is the primary consumer of shredding services. Just like the aforementioned organizations, they use computers for safekeeping of their documents and have lots of documents to dispose. Also, regular shredding of documents is mandated by the law.
Business owners have the option to purchase shredders. However, most of them opt to outsource services for shredding. This is because outsourcing of the service is less expensive than the employment of in-house shredding operators and the maintenance of shredders. Aside from the reduction of costs, they also benefit from the efficiency of their employees who are also beneficiaries of these outsourced services.
Employees
Having mentioned employees, they benefit from these services because they can now concentrate in their work. Owing to the disposal of the clutter of unnecessary documents in their desks, employees can get rid of the eyesore and improve their concentration. Outsourcing the service will also benefit them because they don't have to do the shredding themselves; hence, there is more time devoted to work.
Civilians/Clients/Customers
The civilians and clients or customers of a business, irrespective of its size and nature, benefit from the shredding of documents. This is because they are the ones whose personal information are kept by the government and businesses. Leakage of their personal information may be used for identity theft and such crime can damage their reputation.
Homeowners
Because of some state bans on burning trash, many homeowners turn to shredders for document disposal. However, the use of these machines may cause accidents to the kids and pets. That is why shredding services are more practical than shredders. Also, homeowners don't have to shred documents every day. Costs of purchase, maintenance, repair and utility bills will not be a problem when it comes to hiring these services.
Pet and Cattle Owners
The disposal of confidential documents is not the benefit of shredding services to the owners of pets and cattle. They benefit indirectly. The by-product of shredding can be used as animal beddings. Thus, they don't have to spend for costly animal beddings for their pets and cattle.