What Should Be Shredded?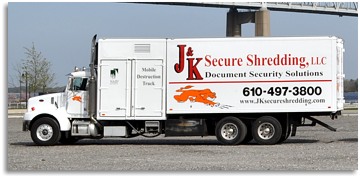 Personal, customer and financial safety of all J&K customers is a top priority for us.
J&K recommends to all of its customers that they shred all documents pertaining to any customers, employees, financial information and legal information. For maximum security, even the envelopes the mail comes in should be shredded.
Below you will find a list of items we recommend be shredded on a frequent basis to keep your information confidential and protected from harmful activities.
Customer Mailing Lists
Research & Development Data
Negotiable Documents
Contracts
Meeting Notes
Accounting Records
Payroll Records
Personnel Records
Bids and Quotations
Budget Data
Confidential Letters, Memos
Financial Reports
Expense Reports
Engineering Drawings
Production Reports
Credit Cards
Inventory Reports
Cancelled Checks
Bank Statements
Deformed Products
Click here to learn about shredding laws.
Please call us today at 610-674-6373 or fill out the form on the right for your free estimate.