Locally Owned Document Shredding in Cumberland County NJ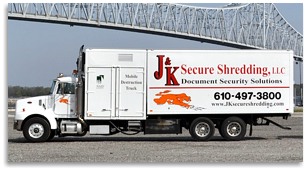 The majority of companies have private data that should be kept confidential. But if your business is not taking measures to protect this sensitive information, then it is time you put together an effective strategy.
Sure, you might already have a few paper shredders on site for your company's documents, but what happens after the docs are shredded? Typically, they are sent out with the other waste.
And when this is done, your private documents can easily be taken out of dumpsters and pieced back together, allowing people on the outside to get a hold of your confidential information.
For the Best in Secure Document Shredding, Cumberland County NJ Businesses Turn to J & K
J&K Shredding is a member in good standing with the NAID (National Association of Information Destruction) – and we have been a member for many years. This highly respected organization keeps its members up to date on all the latest developments in the world of document shredding. Cumberland County NJ businesses also have the security of knowing that NAID members are held to the highest standards of quality and excellence.
With J&K, you have a business partner that treats your sensitive information like it was our very own. Our clients are able to view our document destruction process via closed circuit television so they can verify in real time that their data is being protected.
Secure Shredding Services Cumberland County NJ
Every step of the process, we go to great lengths to ensure the security of your confidential data. When your documents are waiting to be picked up, they are stored in a secure locking container that can only be accessed by designated company employees and the J&K personnel that are assigned to you.
The Most Affordable and Flexible Shredding Services in Cumberland County NJ
J&K offers plenty of pricing schedules and services for all types of Cumberland County NJ businesses. We understand that every company has particular ways of maintaining their operations. For this reason, we offer flexible scheduling designed around the needs of your business. We also offer our services at the most affordable pricing to help companies stay within their budgets.
J & K Shredding: Accommodating all your Data Destruction Needs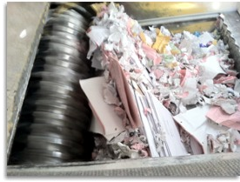 We at J&K have a wide range of data destruction services that are relevant to whatever you might require. We have services that facilitate the destruction of all forms of electronic media. These include:
CDs
DVDs
Audio/Video Tapes
Computer Tape
Desktop/Laptop Computers
Hard Drives
Much more ...
We also work with the environment in mind. We recycle when we can, but our key focus is always to make sure that the important data you have is fully protected at all times.
If your Cumberland County NJ business is in need of secure document shredding or any other kind of data destruction, call J & K today at 610.674.6373 or fill out the form to the right, to request more information or to begin service. We appreciate your business and we look forward to serving you!