J&K Trash Removal Services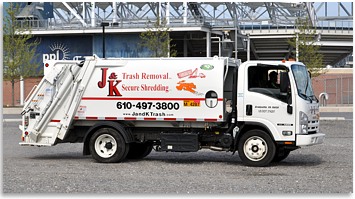 Our sister company, J & K Trash has been committed to providing Delaware County with the best service in the industry since the 1930's. The company has grown since the days of the picture above into a full service waste company with services including residential, roll-off, rear-load and front-load.
Despite all of the changes, one thing has remained the same: We are still a family owned company, committed to providing its customers with the best service and pricing in the industry.
They offer a full line of roll-off container service. The sizes range from 10, 20 30 and 40 yard containers. When you call J&K, you receive fast and expert service. Waiting more than 24hrs to receive a container or a pickup is a thing of the past.
We pride ourselves on this service and it is the foundation upon which this company has been built on. You will find that our rates are among the most competitive in the industry, without sacrificing service. We specialize in demolition disposal and commercial compactors, servicing construction and demolition companies, food markets and industrial complexes.