Secure Document Shredding in Salem County NJ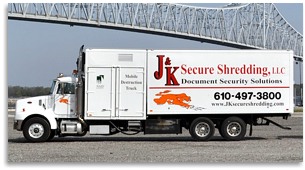 The majority of companies have private data that should be kept confidential. But if your business is not taking measures to protect this sensitive information, then it is time you put together an effective strategy.
Sure, you might already have a few paper shredders on site for your company's documents, but what happens after the docs are shredded? Typically, they are sent out with the other waste.
And when this is done, your private documents can easily be taken out of dumpsters and pieced back together, allowing people on the outside to get a hold of your confidential information.
When it Comes to Document Shredding, Salem County NJ Businesses Trust J & K
For several years, J&K has been a member of the prestigious NAID (National Association of Information Destruction). NAID is highly regarded in the industry, because they hold their members to the strictest standards, while always keeping its membership abreast of the latest trends and changes in document shredding.
Salem County NJ organizations that use us have a partner that takes the most extreme measures to ensure that all your data is protected. In fact, we are so confident in our process, we make it available to clients (in real time) via closed circuit television so they can verify that we are doing all we have promised.
Safe Document Shredding for Salem County NJ Businesses We at J&K provide our customers with secured locking containers that documents can be stored in. These documents can be locked up and removed by J&K for when they are to be shredded. These measures are taken to ensure that only J&K employees and authorized company personnel are able to access these containers.
The Most Affordable and Flexible Shredding Services in Salem County NJ
J&K understands that every business offers a unique product or service that may not be conducive to a set schedule. Not to worry. When it comes to document shredding, Salem County NJ businesses can be assured of receiving the flexibility they need to effectively run their operations while ensuring that their private data is protected. In addition, we run a highly efficient operation that helps us keep costs lower for our clients.
Other Destruction Services J&K Offers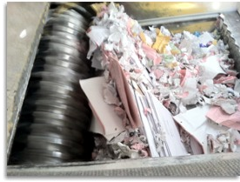 We at J&K have a wide range of data destruction services that are relevant to whatever you might require. We have services that facilitate the destruction of all forms of electronic media. These include:
CDs
DVDs
Audio/Video Tapes
Computer Tape
Desktop/Laptop Computers
Hard Drives
Much more ...
We also work with the environment in mind. We recycle when we can, but our key focus is always to make sure that the important data you have is fully protected at all times.
If your Salem County NJ business is in need of secure document shredding or any other kind of data destruction, call J & K today at 610.674.6373 or fill out the form to the right, to request more information or to begin service. We appreciate your business and we look forward to serving you!